What is Eddy Current Testing ?
PRINCIPLE
Eddy current testing is based on the principle of electromagnetic induction. Alternating current is passed through a coil placed next to the test piece. The coil produces an alternating magnetic field called the primary magnetic field. In response, eddy currents are produced in a material that oppose the primary magnetic field. The magnetic field produced by the eddy current interact with the primary field and affects the impedance of the coil. This change in impedance is measured and displayed by the instrument and is the basis of eddy current testing. Eddy current testing is applicable only to conductive materials.
EQUIPMENT
Eddy current machine.  Pencil and spot probes for surface inspection. Bobbin and encircling probes for tubing inspection. Calibration blocks with EDM notches for surface notches. Calibration tube with hole and flat bottom holes for tubing inspections.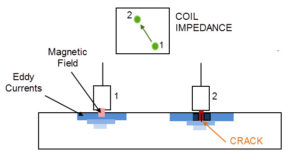 Figure. Principle of Eddy Current testing. A crack disrupts eddy current field can results in coil change in impedance from 1 to 2
APPLICATIONS
Eddy current testing is widely used in the aerospace industry for inspection of airframe structures to include detection of cracks, corrosion and bolt hole inspections. Another application is in the nuclear and petrochemical industry for inspection of heat exchanger tubing.
TRAINING
Level I – 40 hours, Course No. 105
Duration – 40 hours
Level II – 40 hours, Course No. 203
Duration – 40 hours after completion if Level I
NAS410 Level I – 40 hours, Course No. 111
Duration – 40 hours
NAS410 Level II – 40 hours, Course No. 205
Duration – 40 hours after completion if Level I